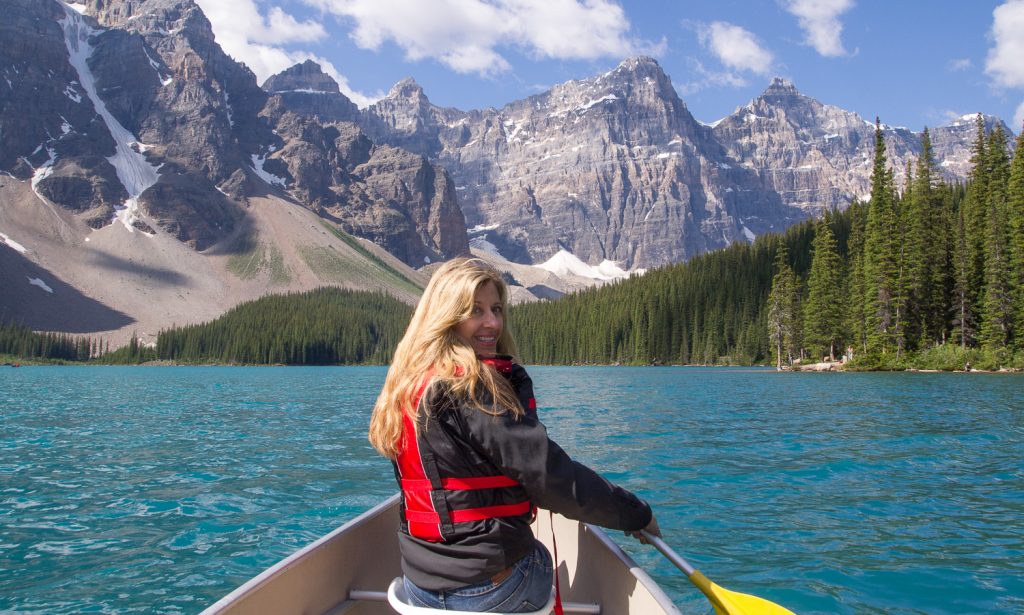 Artist Statement
I grew up in Saskatchewan where the sky meets the earth with a strong linear presence: on the prairies, there is an abundance of blue sky and a sliver of earth. This ever-present horizon is etched in my mind, and I intuitively use a horizontal line as a starting axis for many of my paintings. Moving to Alberta brought me into the beautiful foothills and Rocky Mountains. In Alberta there is an abundance of earth. It is the texture of the rock and jaggedness of the Alberta horizon that presents itself in my process and technique. Now that I live on the West Coast of BC, where the sky and earth meet the water, there is a reflective element in my work.
Painting the landscape allows me to group memories from time spent in the natural environment, and then reinterpret and restructure these inspirations. Many of my paintings portray nonexistent spaces – they represent a collection of influences and experiences. It is the essence of the landscape that I want to capture in my work. My goal is to facilitate an inspirational feeling, and share a reminiscent connection with the viewer. I want my paintings to be familiar and speak of a common experience.
As an internal reflection, the color palette and composition that I choose for my work satisfies a need for simplicity, calm and inner peace. Yet, the process and bold gestural approach I use speaks of a need to show energy, vitality and vibrancy that are inherent in our natural landscapes – it's a juxtaposition.
Bio
Gina Sarro is a painter living in Vancouver, BC, Canada. She studied painting at Emily Carr University of Art and Design, and Alberta College of Art and Design, after completing an Economics degree at the University of Calgary. She has been self promoting her work for the last 10 years, and recently had her first solo exhibit at The Space Gallery in Vancouver, BC Canada. Thousands of hours spent in her studio allowed her to discover a love for the physical act of painting. Driven by process, she is constantly searching for new approaches to abstracting the landscape. Gina works in both acrylic and oil, on canvas or wood panel.
EDUCATION
Emily Carr University of Art and Design, 2010
Alberta College of Art, 1989
University of Calgary, 1987 (B.A. Economics & Political Science)
SELECTED COLLECTIONS
Specialist Referral Clinic, Vancouver
Fortius Sport and Health, Burnaby
Herman Miller Workplace Resource, Vancouver
Vancouver General Hospital, Neurology Dept.
RBC Dominion Securities Inc., Vancouver
Cawley Curran Wong & Associates, Vancouver
Collette Parsons Trial Lawyers, Vancouver
DONATIONS
CLICK – Contributing to the Lives of Inner City Kids – Oct 12, 2017
Vancouver General Hospital – Jim Pattison Pavilion 2014
BC Children's Hospital Foundation 2010
Crofton House School
Vancouver College
Immaculate Conception School
St. Patricks Regional Secondary School
EXHIBITIONS
2017 Group Exhibition – The Space Gallery, Vancouver – Dec.6, 2017
2017 Solo Exhibition – The Space Gallery, Vancouver- October 11, 2017
2017 Group Exhibition – The Space Gallery, Vancouver
2016 Greater Vancouver Home Builders'Association (GVHBA) – Reid Developments, Vancouver
2016 Art! Vancouver Exhibition – Canada Place, Vancouver
2016 Allure & Prestige – Live Art Auction benefiting Heal our Lives, Vancouver, BC
2015 Black & White – Art Affair Annual Charity Art Auction, benefiting the Salvation Army Food Hamper, Vancouver
2014 Hollyburn Golf and Country Club, West Vancouver
2014 New Beginnings – The Perfect Gift, Vancouver
2014 Roundhouse Exhibit – AIOM
2013 Spa on the Rocks, Vancouver
2013 Pane E Formaggio, Vancouver
2013 Hills of Kerrisdale, Vancouver
2013 Roundhouse Exhibit – AIOM
2011 Mix it up – Art & Jewelry Exhibit
2010 Enigma on 10th, Vancouver
2009 Lily and Lola on Dunbar, Vancouver
2009 RBC Royal Bank Main Branch, Vancouver
PRESS
2016 Impact Newsletter VGH/UBC Hospital Foundation – The Art of Giving
2015 Fresh Vancouver magazine – Art! Vancouver
2013 VCH Newsletter – Help inspire art to heal thousands!
CURATORIAL
Curatorial Chair, Artists in Our Midst 2014